The following article was posted on nola.com on Saturday September 17, 2005. Until this season, Blackie Campo has only missed one or two Saints home games in the entire history of the franchise. The family has been in the Shell Beach area since the late 1800's. Blackie was born there in 1918. They have operated a marina at Shell Beach since 1931. That marina is where Coop and I both refueled our boats when we went fishing. This is their absolutely incredible story: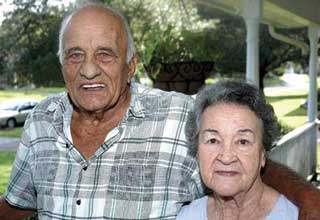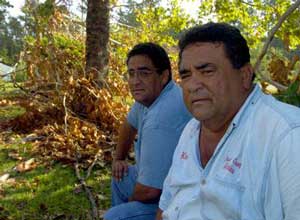 Blackie and Mabel Campo (left picture), Kenny and Ken Campo (right picture)
Katrina's might surprised the Campo clan
3:47 p.m. Saturday
By Bob Marshall
Outdoors editor
After living in the St. Bernard marshes all of his 87 years, Blackie Campo thought he'd probably seen and heard it all – even when it came to hurricanes. It was a hubris Campo earned by watching storms wipe homes away in 1947 and 1956.
So as he and his son Ken waited in the Poydras home of his grandson Kenny for Katrina to pay her visit on the night of Aug. 28 Blackie – arguably the best-known marsh man in south Louisiana - thought there could be no surprises.
He was wrong.
"This was worse than everything I've ever seen before combined," Blackie said Friday from his refuge in Baton Rouge. "I thought we'd have some water. I thought there would be winds. But I never thought it would be like this – just all gone.
"I'll tell you, we're lucky we got out of there with our lives."
They have little else left.
Katrina already is being called the most destructive natural event in the nation's history, a storm that spawned a million stories of horror, escape and lives suddenly changed. The Campos have one such story.
If a family and a place can be an icon for a tradition as old and cherished as fishing in southeast Louisiana, it has always been the Campos and Blackie's Shell Beach hoist. They have been fixtures not just on the Lake Borgne fishing scene, but in the hearts and dreams of three generations of metro-area residents. Saying "Blackie's" in a New Orleans crowd is almost like saying "Archie". The name brought instant recognition, and visions of a place as much a part of the local culture as Jackson Square. The Campo clan had been there since the 1800s, running their hoist since 1931. They seemed permanent, even in a region where land disappeared at the rate of 35 square milers a year.
Today they are gone, and the future is uncertain. Blackie and his wife Mabel are staying with family in Baton Rouge. Ken, 57, and Kenny, 33, are earning a wage working on hurricane clean-up crews in St. Tammany Parish.
"We're making a living, and happy to have it," said Kenny. "But did I ever dream it would come to this? Not until that day.
"And I can tell you exactly when everything changed."
It was 11 a.m. on Monday Aug. 29, and the Campo men were in a celebratory mood. Katrina's eye and its vicious 145-mph winds had passed close to the area but they had come through unscathed in the house just 200 yards from the river levee. They really weren't surprised.
"When I built my house, I chose that land in Poydras because everyone said it had never flooded there, ever," Kenny said. "That's why we evacuated there. We had locked down grandpa's house, the hoist and the business on Sunday, our families had gone to Baton Rouge, and we'd come to my house because – like grandpa said – it never floods in Poydras.
"And after the first part of Katrina passed, it still hadn't flooded."
With a new generator purring, the men watched the storm's progress on TV and were preparing to have some lunch. Kenny went outside bare-chested and bare-footed to pick up the few shingles blown off his roof. That's when he heard a peculiar hissing sound, and looked up the street.
"Water was coming down the street, then from the other yards, then up the street, it was just pouring in from everywhere," he said. "By the time I got back to the house, it was up to my knees."
His alarms dumbfounded his father and grandfather.
"Kenny comes in yelling 'We got to get out of here! We got to go!' and I didn't know what he was talking about," Ken Sr. said. "Then, the water started coming in the house."
The men ran to their two pickup trucks, Blackie joining Kenny in one, Ken Sr., in the other, and with the water rising fast made a hurried, fateful decision.
"As we're getting in the pickups, I'm thinking about where we should go," Ken recalled. "At first I thought we should try to get to St. Bernard High School, then maybe the courthouse. But the levee was right there, so we just took off and drove up to the top of the levee.
"Let me tell you, maybe 15 minutes had passed since Kenny saw that water until the time we got to the top of the levee, but by then there was seven feet of water in his house, and it was still rising. We were on the only high ground left. If we'd tried to go anywhere else, we would have all drowned."
They were safe, but only for the moment. Katrina's winds returned blowing from the northwest with a vengeance.
"It was so strong it was rocking those pickup trucks, and several gusts almost rolled us completely over," Ken said. "We finally decided we had to drive part way down the river-side of the levee. That got us some protection, but we were still being bounced by the gusts.
"We stayed like that for two hours, but it seemed like weeks. It was really, really scary. Several times I thought we'd be rolled into the river."
When the wind and rain finally eased they drove north on the levee to Violet, where Ken's brother, F. J., had planned to ride out the storm in his 55-foot shrimp trawler. What they saw along the way made them anxious. The parish was a lake broken only by the roofs of homes, many holding people begging for help. They rescued a few, including several relatives.
Each mile made them fear the worst for Violet and F.J.. But he was fine, and the shrimp boat became their home for the next three days.
"We had a whole bunch of people living on boats, waiting to find out just what had happened," Kenny said.
The survivors helped open the Violet flood gates with hand power and on Wednesday the Campos motored down the MR-GO to check on their business and homes in Shell Beach. It was a short voyage, but one they will never forget.
"The (MR-GO) levee was gone, and that's what probably flooded St. Bernard and Poydras," Kenny reasoned. "The channel was twice as wide as it was before the storm.
"When we made that turn from the channel into the bayou (Ycloskey), we couldn't believe our eyes – because there was nothing to see. The steel beams and the roof on the hoist were still standing, but there was nothing else left. It was total devastation."
Blackie's home that had withstood everything nature had thrown its way since 1956, the marina store, the boat sheds, and almost every home on nearby Proctor's Landing and Beauregard Estates were gone. Only slabs remained.
"My house was built strong, with the idea of hurricanes hitting," Ken Sr. said. "The pilings were driven deep, and they were anchored in the slab, and then bolted to the frame of the house. Everything was bolted and anchored down. And there's noting left.
"I don't mean it was torn down. I mean it's nowhere to be found. I don't know what hit us, but it had to be a hell of a lot of water, and an incredible amount of wind."
Blackie looked at the scene through eyes that have watched nature play violent games with his native marshes for 87 years, and was still shocked.
"I knew it would be bad, especially after the flooding at Kenny's house, but I've never seen anything like this," he said. "You put all the other storms together, and they don't equal this.
"I don't know where my house is, or even its roof. Nothing's left. It's almost like we were never there."
By the end of the week the family had affected a rescue thanks to friends in Covington, and cousin David Snyder, a native who had relocated to Baton Rouge more than 15 years ago. Like hundreds of thousands of other evacuees, their immediate concern was getting work, and their vast extended fishing family was ready to help.
"We got offers to work, places to stay, people have just been unreal," said Ken. "We're OK for now."
But the future is in question. The infrastructure of the fishing business – roads, fuel, ice and customers – is in shambles.
"Sure, we'd like to rebuild the business, but even if we could do that next week – they could open the roads, fix the bridges, get power and fuel - where would our customers come from?" Kenny pointed out. "I can't see us staying out forever, but for right now I don't see how any of that's going to get done very soon."
Ken agreed, but said his clan is struggling with the same emotions all Katrina evacuees are saddled with. He and Kenny will look for work and places to live with their families as close to home as possible, and make the best of it.
Blackie and his wife of 65 years will remain for now with his cousin in a Baton Rouge subdivision called Camelot. He knows it's too far from the marsh to live up to that name.
Reprinted from nola.com
HOME | UPDATES | DONATE | GALLERIES | PEOPLE | STORIES | LESSONS | LINKS